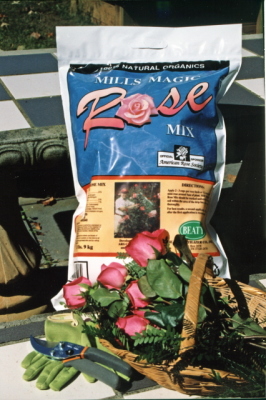 Mills Magic Rose Mix is a 100% natural product formulated and developed by Ted Mills, accredited Consulting Rosarian and Rose Show Judge of the American Rose Society. This product is a combination of alfalfa meal, fish meal, steamed bone meal, cottonseed meal, blood meal, activated sludge, and an organic compost activator. NPK analysis is 6-5-1


Mills EasyFeed Liquid Concentrate

EasyFeed Liquid Concentrate, like original EasyFeed, is an accelerated flowering formula. It provides both organic and non-organic nutrients to your plants. It is a combination of Epsom Salts, sequestrine chelated iron, soluble seaweed extract, fish solubles, urea and other fertilizers suspended in water. This is the most convenient way to use EasyFeed because it dissolves easily in water. NPK analysis is 14-6-4.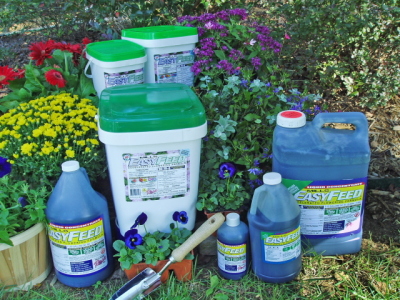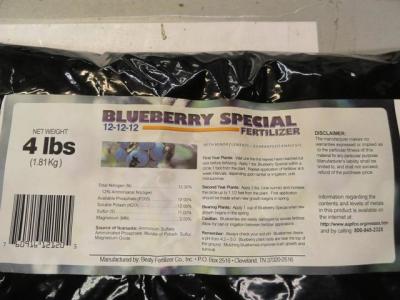 Give your blueberry plants the boost they need to produce the crop you want to enjoy! Especially developed for production blueberries, our Blueberry Special is a 12-12-12 formulation with added magnesium and sulfur. The container has label directions as to the amount to use annually which is determined by the age of your plants.
Alfalfa Meal 4#  Hy Yield


A reasonable alternative to blood meal as a source of nitrogen and is nicely balanced with phosphorous and potassium. Its carbohydrates and protein make it an excellent soil conditioner by encouraging microbial activity in the soil. Micronutrients are plentiful. Typical analysis: 2.5-3% N based on protein.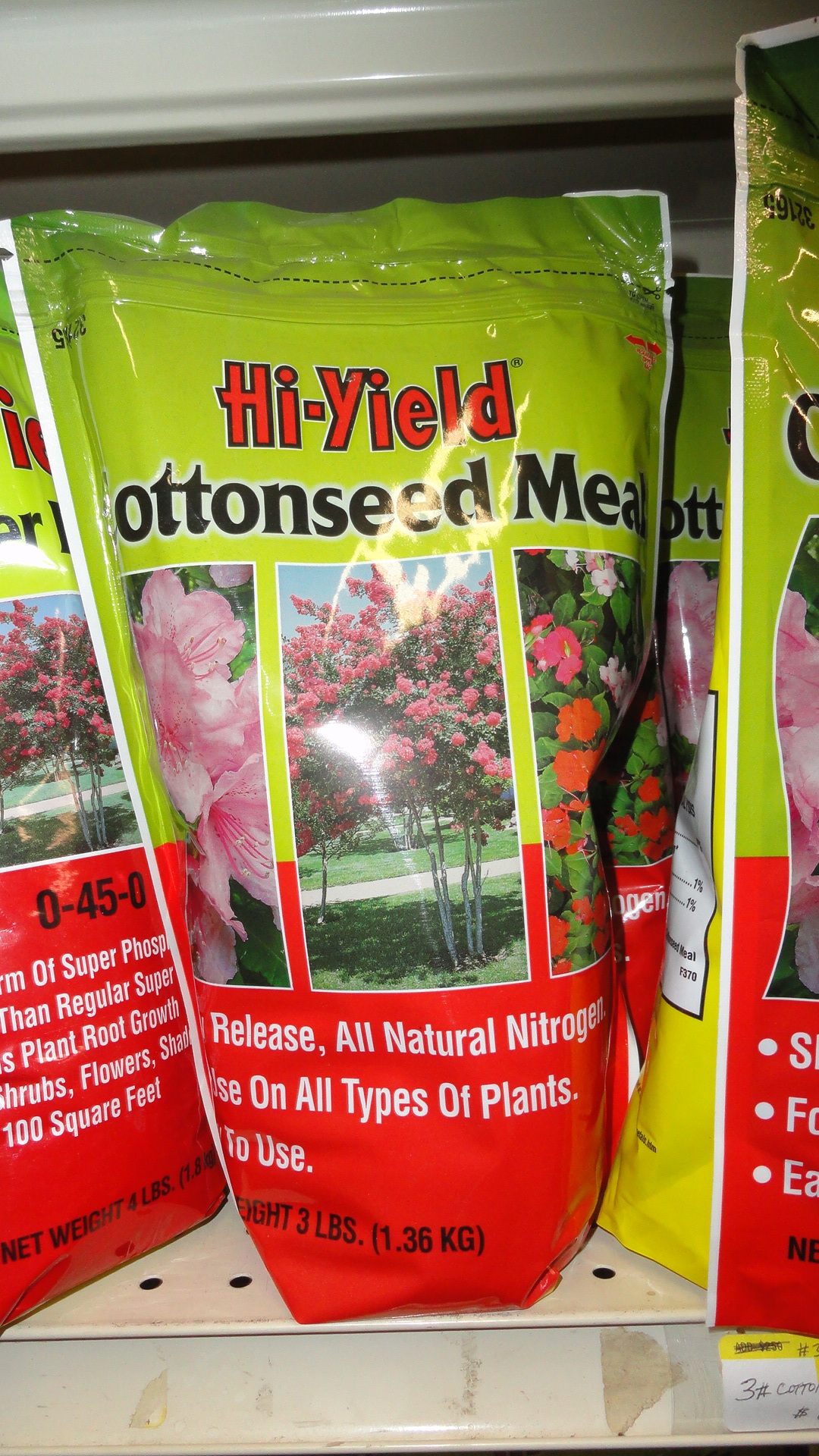 Cottonseed Meal 50#
An excellent slow release organic source of nitrogen for acid loving plants because of its low pH. Typical analysis: 6-2-1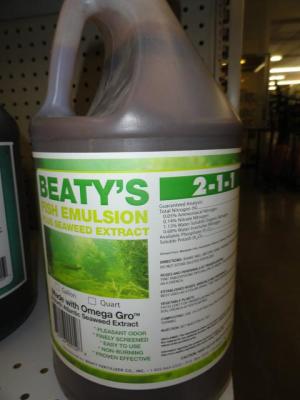 Fish Emulsion 1 Gallon
This is a fish emulsion product that can be used in the row, transplanting water and as a foliar spray. It can be used on lawns, flowers and shrubs, trees, vegetables and field row crops. In addition to the primary nutrients, it has an ample supply of trace elements. Typical Analysis: 4-1-1



Fish Meal 50#  SPO
An excellent source of organic nitrogen and phosphorous. It is high in carbohydrates and protein which will stimulate biological activity in the soil. The nutrients are released through microbial activity in the soil, so it is long lasting and does not leach. Typical analysis: 9-3-1



Liquid Fish  1 Gallon
This product is designed as a foliar supplemental spray or for adding to liquid fertilizer systems. Use during the stress periods of plant growth; e.g., rapid early growth, budding, pod formation, fruiting, prior to frost, and to revitalize crops damaged by herbicides. Apply as a fine mist in the early morning or late afternoon.



Liquid Kelp 1 Gallon
This product is not considered a fertilizer as the amounts of NP&K are relatively low, but it contains all the micro-elements from A to Z, growth plant hormones, vitamins, enzymes and carbohydrates. It's a biostimulant, root system developer, and minor-nutrient deficiency cure. It can be used in conjunction with any water soluble spray. Reduce herbicide by adding liquid kelp, yet maintain the same kill effectiveness.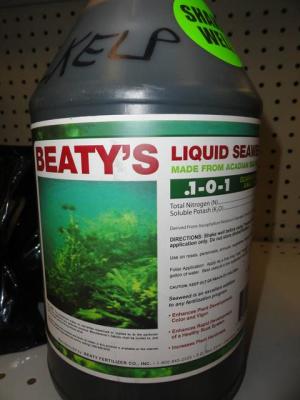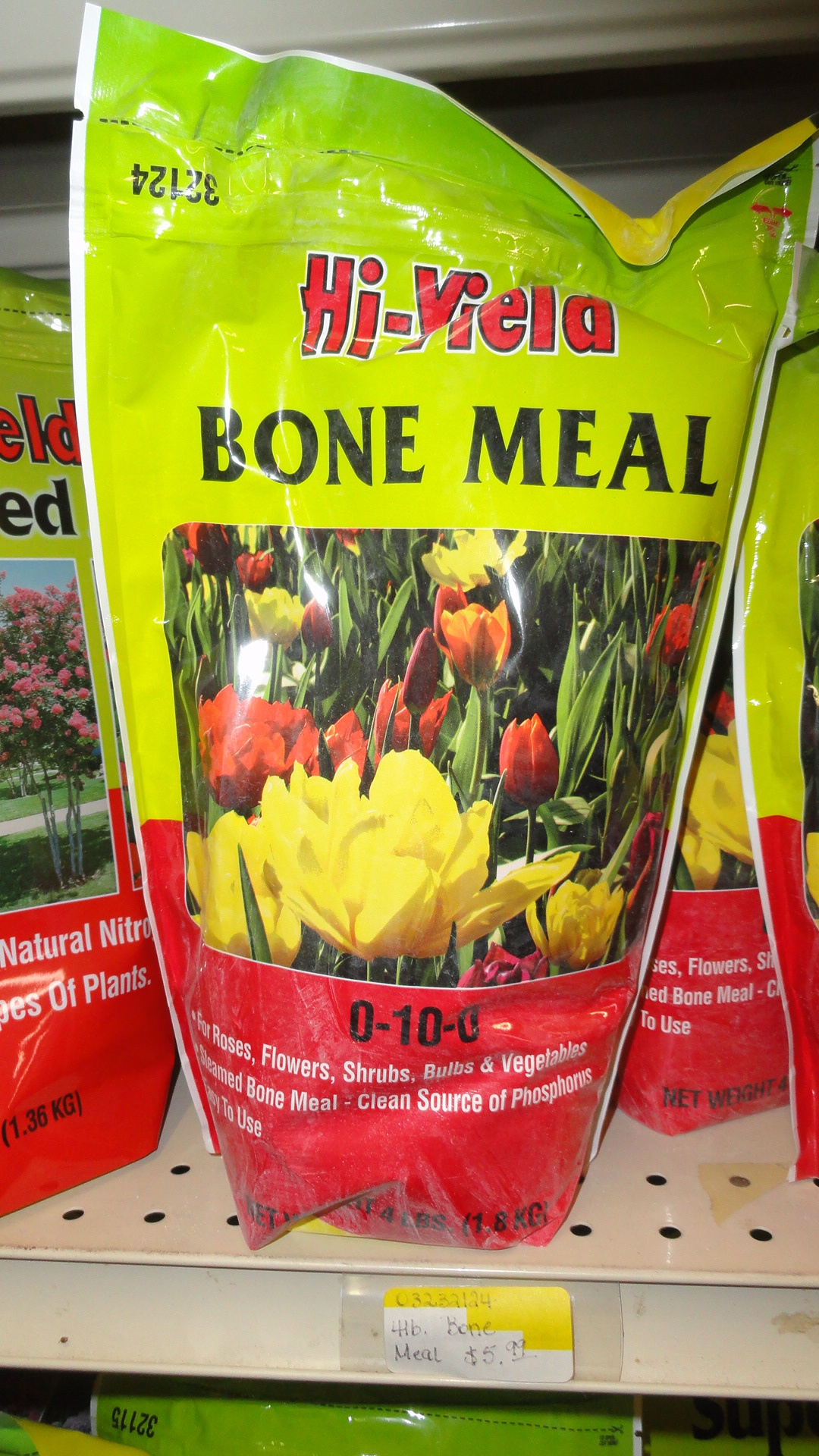 Steamed bone meal  4# Hy Yield

An excellent source of plant available phosphorous. It also contains a minor amount of nitrogen and a large amount of calcium. This product can be used for general application or as a starter fertilizer for new plantings or transplants. Typical analysis: 1-11-0


Green Up


It helps lawns stay green and healthy during the hot summer months without the surge in growth and added risk of brown patch or other grass diseases associated with high nitrogen applications. It supplies iron, magnesium and calcium (lime) to lawns. The iron is non-staining and water soluble. You will notice the benefits for Green Up shortly after watering or a brief summer shower. Green Up can be used anytime of the year when a greener color is desired for grass.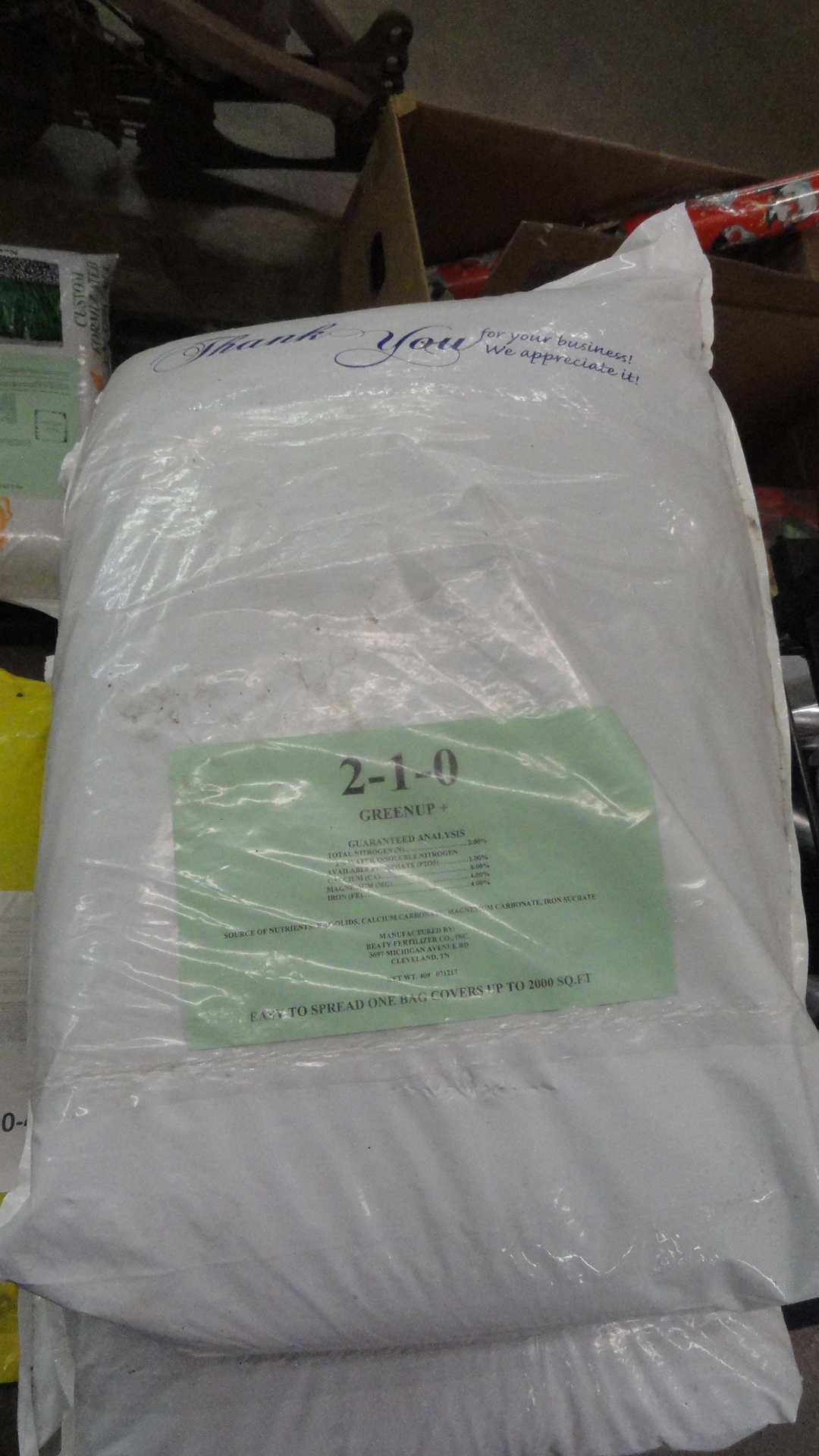 Milorganite

NOW IT IS OKAY FOR VEGETABLES.. Easy - no need to water-in; great for hot, dry summers. . Non-burning-won't scorch or stripe lawns; also ideal for delicate plants like flowers and vegetables. . Rich in organically complexed iron. . Non-staining. : . Loaded with the essential micronutrient plants need. . Slow release formula--promotes uniform growth . Resists leaching---stays in the root zone Miloganite natural organic fertilizer is so easy to use, it's virtually goof-proof. Plus it's so effective and versatile, you can use it petty much everywhere.
wth without interfering with flowering and fruiting. Meets US EPA's Exceptional Quality standards-the most stringent safety regulations in the fertilizer industry.

All purpose fertilizer-Use all season long on annuals, perennials, fruits, ornamentals, trees, shrubs, and transplants.

Used by golf and turf managers for over 85 years.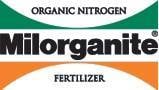 Bio-hume

21 % concentrated is a liquid product derived from decayed organic matter (humates). It has a high caution exchange capacity which serves to chelate (collect) plant food elements and release them as the plant requires. The chelation process holds the nutrients in the soil solution and prevents their leaching and runoff. Humic acids will improve humus content in the soil for better tilth, water and nutrient retention arid soil aeration. Seed germination and plant root and top growth are enhanced.



Kelp Meal  SPO

Feed supplement delivers a natural, bioavailable source of macro- and micro-nutrients giving producers an essential tool to alleviate known and hidden deficiencies.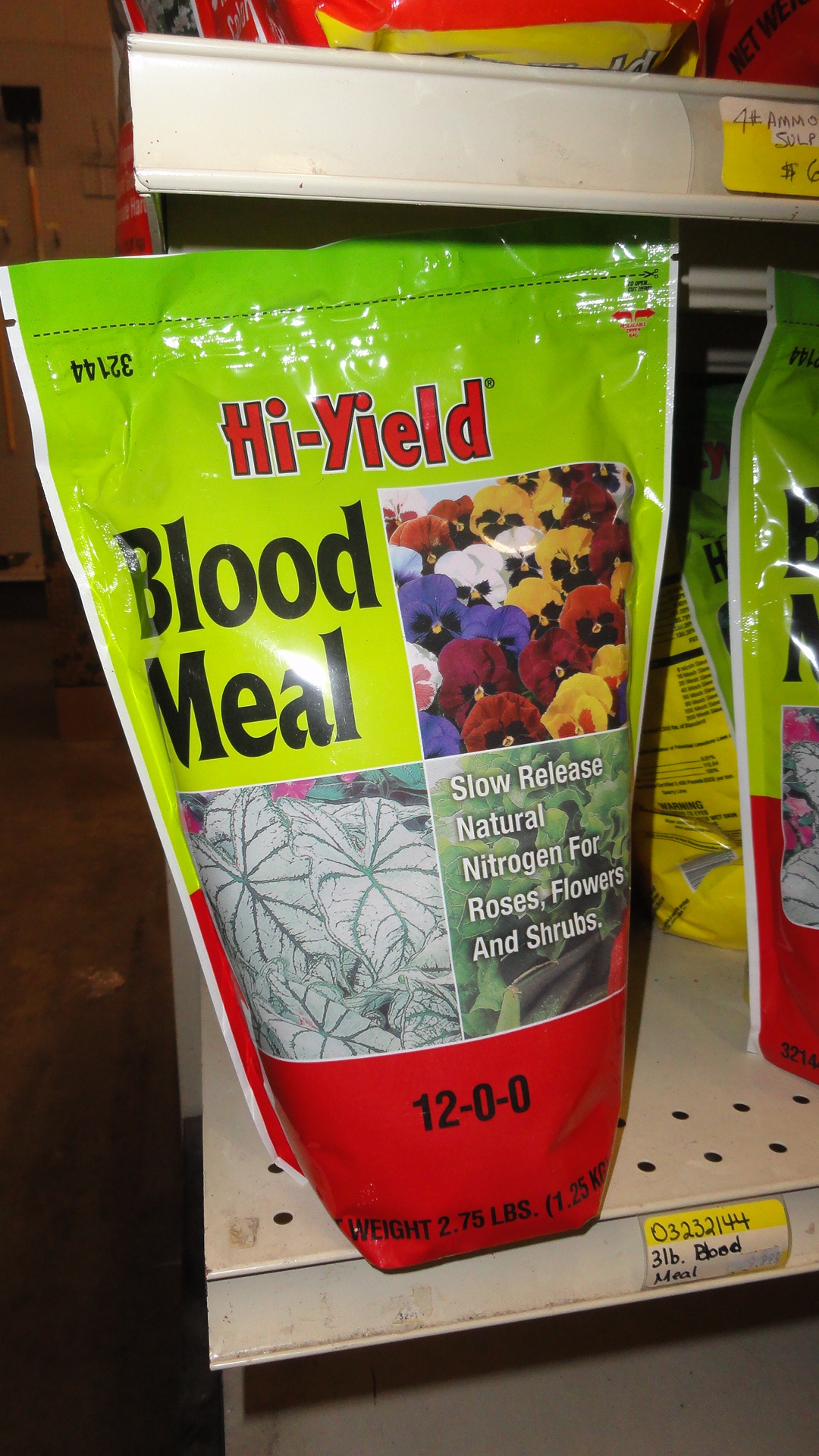 Blood Meal 4# Hy Yield

It is a fast release source of organic nitrogen. It should only be used on plants that have a high nitrogen requirement. It may also be used in compost piles to increase the speed of the decomposition process. Tends to act as a deer repellent. 12-0-0.



100% Worm Castings - Contains no fillers! 

Worm castings have a natural slow release quality and may be used on all types of plants, trees, shrubs, etc. 

Worm castings are considered by many horticulturists to be the very best soil amendment available. They can aid in gradually restoring long depleted soils naturally. 

They are odorless, non-toxic, and will not burn plants. 

Much of the content of worm castings and their effect on plants is still being studied. 

Roses: New plantings, mix one cup with 4 cups of soil or potting mix. Established bushes, spread worm castings 1/4" deep within the drip line and work into soil every two months. Water the area thoroughly after each feeding. 

Gardens and flower beds: Spread 1"-3" deep over surface area and mix with soil. Water well.